First off, thank you to
Abby
over at Enthralling Reads, and
Jayvee
of Writer for Misfits for tagging me! This is the first tagging thing I'm doing on the blog and my gut tells me this should be fun!
There are no rules. Just go answer what's asked of you and tag people if you want to! LEt's do this!
What are your top three book pet hates?
Damaged cover/spine. I'm very picky over the books I purchase. I inspect every copy of a title in a bookshop and make sure it doesn't have scratches or folds or sides that happened to bump into a lot of things and deform whilst shipping. I don't know. Obviously, I am yet to be ending up scratching them or damaging them somehow whilst reading them, but at the moment of my purchase, I want it neat.
Love triangles. Sometimes this works for me, but most of the time I feel like they're in there just to say that there's love triangle. (OR TO MESS WITH MY OTP.)
Too many cliches. I know it's normal for us to read or watch some stuff with cliche-d stuff in it every now and then, but if there's too much in one, (especially Mary-Stu and Gary-Stu characters) it gets too unreal and therefore not bearable.
Describe your perfect reading spot.
Fun fact: I read anywhere. When I say anywhere, I mean anywhere book opening and reading is possible. But I do have a dream reading spot which may contain a wall full of books, a very comfy couch and a mini-fridge.
Tell us three book confessions.
I'm a mood reader. I literally won't give a novel a chance unless I'm in the mood to read something of that type. (e.g.: As of the moment, I am in the mood to read cheesy contemporaries and cheesy contemporaries only.)
I consider a novel a fast-read novel when I get to finish it in two days. (Because I usually finish a novel in exactly seven days.)
When was the last time you cried during a book?
The last time I cried over a novel is when I read The Moment Collector by Jodi Lynn Anderson. It's just a sad, sad thing.
How many books are on your bedside table?
I don't have a bedside table but I have five books on my headboard cabinet.
What is your favorite snack while you're reading?
Cheetos! I know, dirty. (Bread works too. And chocolates!)
Name three books you would recommend to everyone.
Show us a picture of your favorite bookshelf on your bookcase.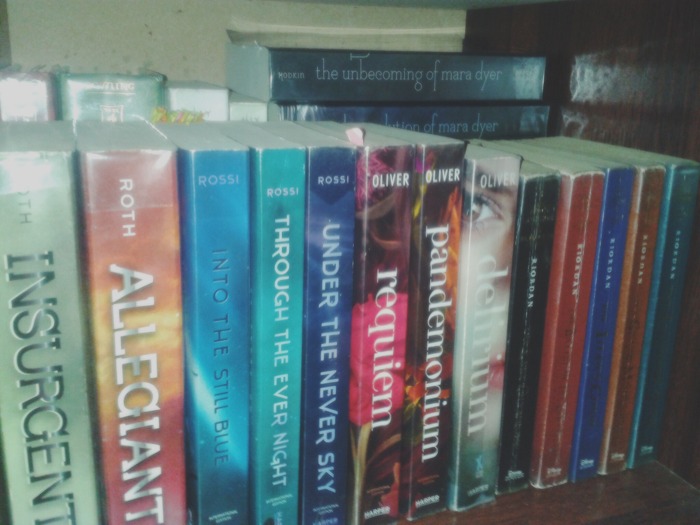 This isn't really a bookshelf--this is actually a space for clothes in my clothes drawer, but I have too few clothing and too many books that it became a space for them. That "shelf", by the way, contains the series and trilogies and for some reason, they're my favorite part in the makeshift bookshelf I have. (Divergent is MIA because my friend borrowed it!)
Write how much books mean to you in just three words.
What is your biggest reading secret?
I stop for a minute or two into reading to sniff or hug the book for a bit. I do this every time I get to read.
Tagging: