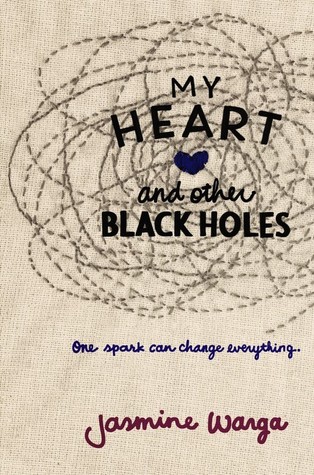 Title:
My Heart and Other Black Holes
Author:
Jasmine Warga
Expected Publication Date:
February 10th, 2015
Publisher:
Balzer & Bray/Harperteen
Synopsis:
A stunning novel about the transformative power of love, perfect for fans of Jay Asher and Laurie Halse Anderson.

Sixteen-year-old physics nerd Aysel is obsessed with plotting her own death. With a mother who can barely look at her without wincing, classmates who whisper behind her back, and a father whose violent crime rocked her small town, Aysel is ready to turn her potential energy into nothingness.

There's only one problem: she's not sure she has the courage to do it alone. But once she discovers a website with a section called Suicide Partners, Aysel's convinced she's found her solution--Roman, a teenage boy who's haunted by a family tragedy, is looking for a partner. Even though Aysel and Roman have nothing in common, they slowly start to fill in each other's broken lives. But as their suicide pact becomes more concrete, Aysel begins to question whether she really wants to go through with it. Ultimately, she must choose between wanting to die or trying to convince Roman to live so they can discover the potential of their energy together.
Why I'm looking forward to it:
I don't know about you--I don't want to be comparing but it sort of reminds me of Random (by Tom Leveen), and Love and Other Unknown Variables (by Shannon Lee Alexander) but just barely. Just, you know, the suicide thing + the Physics nerd thing. The resemblance ends there. What piqued my interest is that I've never heard of anything like this before. And it sounds so bloody good. Plus! I've read reviews of it and I've heard only good things. That's a good sign, right?
What are you looking forward to this month?
'Til next time!